FMPA's Annual Report provides a summary of business activities and financial reports for the fiscal year ending Sept. 30.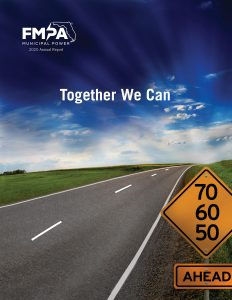 Fiscal 2020: 70-60-50 Together We Can

Customers need electricity to be low cost and reliable, and customers want electricity to be clean. FMPA has made significant strides meeting these expectations, and we're determined to do more. Looking ahead, we've set some big goals. We are committed to doing all we can to meet these objectives because that's how we'll deliver true value to our members. It will take all of us working together to succeed. This is the journey we're on. 70-60-50, here we come.
Fiscal 2019:
Value in Action
FMPA has focused intensely the past three years on providing low-cost, reliable and clean power for our members and the customers they serve. We talk about this mission at every opportunity because delivering maximum value in these areas is the reason our Agency exists.
Business Report Financial Report
Fiscal 2018:
The Difference
Electricity is essential for living, particularly in Florida where power use is higher than the national average and income is lower than average. Statistics show that for nearly one in three residents of our state, electricity is a significant monthly expense. Because of this, people are counting on FMPA's members to provide low-cost, reliable power. Now that we are delivering value in our core mission, our members are inviting us to help them with other challenges, many in their distribution systems. FMPA's staff are out in our member cities helping in new and exciting ways. This is how and where we're making a difference. This is our story.
Business Report Financial Report
Fiscal 2017:
Everything Changes Except Our Mission
There are few things in our society today that remain unchanged, untested, undisrupted. At FMPA, we believe in continuous innovation as we strive to exceed the expectations of our member-owners and their customers. What hasn't changed during FMPA's first 40 years, and isn't likely to change soon, is our mission: to provide low-cost, reliable electricity in an environmentally responsible manner. Our member cities have an important role providing low-cost power to improve the quality of life in their communities, and FMPA has an important role supporting our cities. What we do affects the lives of many people. And this is what drives us every day.
Business Report Financial Report
Fiscal 2016:
It's a Good Time with No Time to Rest
There is nothing more important that FMPA does—day in and day out—than work to provide low-cost, reliable wholesale electricity for the communities we serve. This year was another good year for that goal. Power costs to our All-Requirements cities have declined 31% since 2009, and we now are among the lowest cost providers in Florida. Our young fleet of largely natural gas-fired generation has low emissions that gives us one of the cleaner emission profiles in the state and nation. While this has been another good year for FMPA, there's no time to rest.