FMPA's Annual Report provides a summary of business activities and financial reports for the fiscal year ending Sept. 30.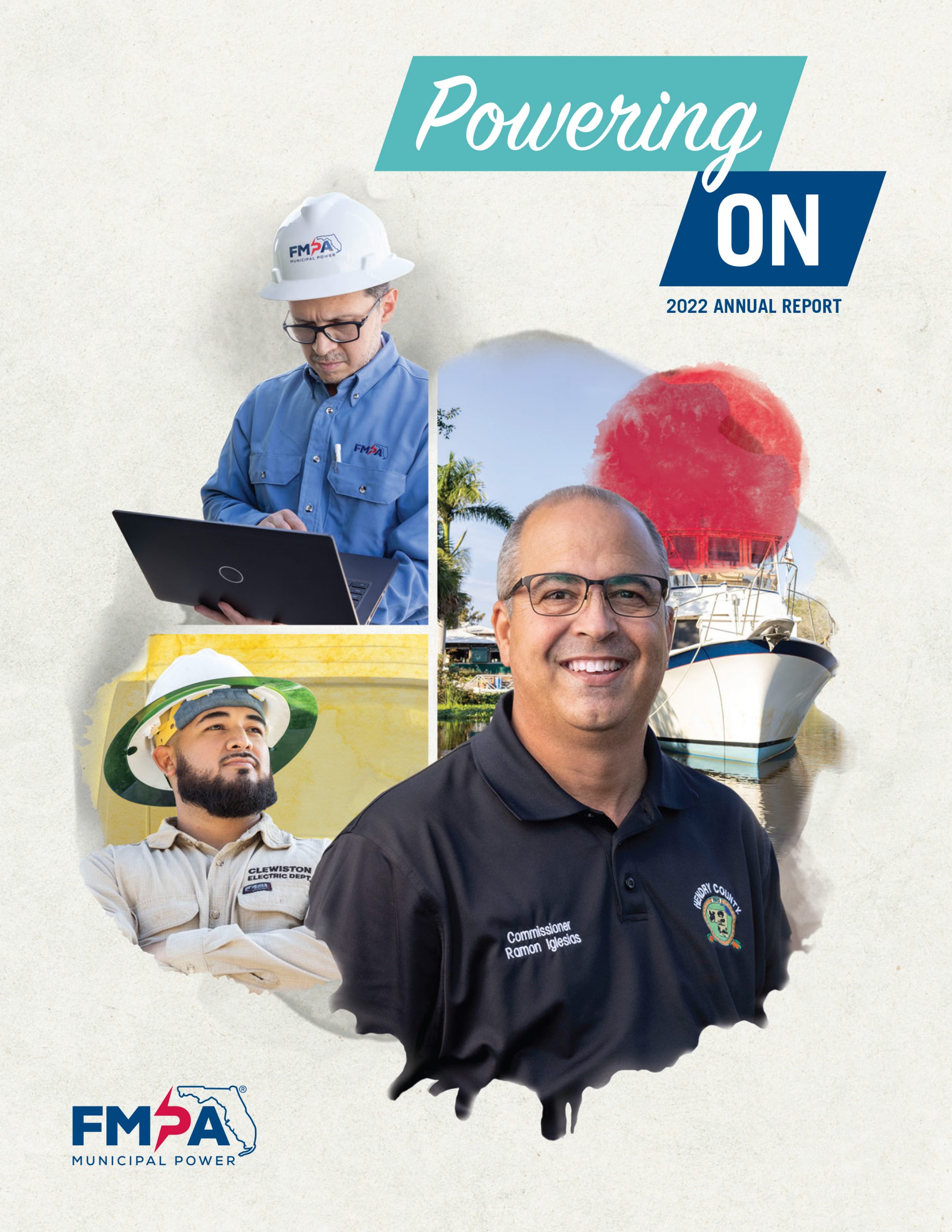 Fiscal 2022: Powering On
The energy industry has faced many challenges over the past 12–18 months. As a result, our power costs are up, and customers are struggling to pay their electric bills. At FMPA, we've rolled up our sleeves, dug deep and are powering on to do everything we can to meet our mission of providing low-cost, reliable and clean power. Explore this report to see how we are working with our members to ensure electricity prices are affordable today, tomorrow and in the future.
Business Report Financial Report
Fiscal 2021: Progress for a Better Life
We understand electricity is important to the quality of life for people. For some, it's the cost of power that impacts their disposable income. For others, it's the reliability of power that impacts their everyday life. Maybe it's their increasing desire for clean energy. It's all important. That's why we are focused on our mission to provide low-cost, reliable and clean energy. When we execute on these priorities, we make life better for millions of Floridians.
Business Report Financial Report
Fiscal 2020: 70-60-50 Together We Can

Customers need electricity to be low cost and reliable, and customers want electricity to be clean. FMPA has made significant strides meeting these expectations, and we're determined to do more. Looking ahead, we've set some big goals. We are committed to doing all we can to meet these objectives because that's how we'll deliver true value to our members. It will take all of us working together to succeed. This is the journey we're on. 70-60-50, here we come.
Fiscal 2019:
Value in Action
FMPA has focused intensely the past three years on providing low-cost, reliable and clean power for our members and the customers they serve. We talk about this mission at every opportunity because delivering maximum value in these areas is the reason our Agency exists.
Business Report Financial Report
Fiscal 2018:
The Difference
Electricity is essential for living, particularly in Florida where power use is higher than the national average and income is lower than average. Statistics show that for nearly one in three residents of our state, electricity is a significant monthly expense. Because of this, people are counting on FMPA's members to provide low-cost, reliable power. Now that we are delivering value in our core mission, our members are inviting us to help them with other challenges, many in their distribution systems. FMPA's staff are out in our member cities helping in new and exciting ways. This is how and where we're making a difference. This is our story.